BENGALURU

: Funding may be hard to come by from big-name investors for established startups looking for growth capital, but early-stage ventures are finding support from

Wealthy Individuals

based overseas — both foreigners and those of Indian origin.The view of Indian startups from abroad is rosy for these early-stage investors who see a mix of homegrown innovation that addresses local problems, and a big market to boot. Which is why, when Mumbai-based startup Repaireasy was looking for funding, it found support from Angel Investors not just at home but also as far away as Australia.
"We are very bullish on the Indian startup market and certainly there will be many more deals to come," said Ben James, an Australian who joined forces with compatriot Chris Dorrough to participate in a funding round for Repaireasy, which specialises in fixing electronic gadgets. "The sky is the limit," said James.James has relocated to India where he has founded a startup specialising in solutions to make roads safer. He invested Rs 60 lakh in a funding round that saw Repaireasy raise about Rs 1.85 crore.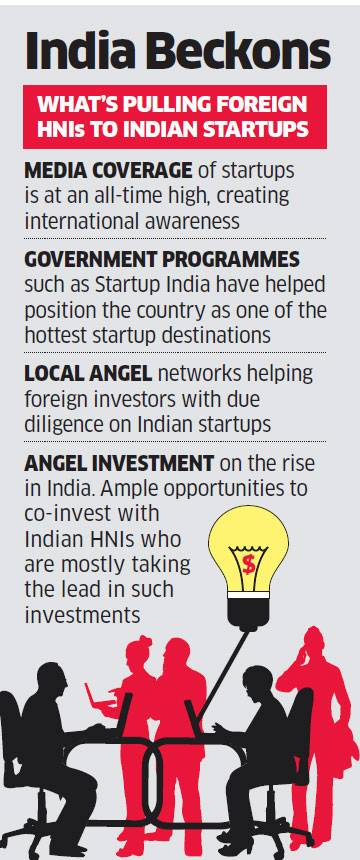 The Indian Angel Network, the country's largest, estimates that over 20% of investors on its platform are based overseas, and this is only increasing. Foreign-based wealthy individuals are aware that India is one of the vibrant places for innovation, and they want a piece of the action for themselves, said IAN president
Padmaja Ruparel
.

"The flow of money is a big plus for Indian startups. Additionally, participation by foreigners also helps Indian startup players gain access to their networks abroad," she said. The way they find their way to picking good deals is pretty straightforward. Most high net worth individuals based abroad are finding links with Indian startups and co-investors through former colleagues they have worked with abroad, connections with angel groups based in India, or boutique investment banks.

"Angel investors from Singapore are definitely very active in India. These investors now have more access to deals via angel groups like IAN and platforms like LetsVenture," said Jayesh Parekh, Managing Partner at Singapore-based Jungle Ventures and cofounder of Sony Entertainment in India who is an adviser to Flickbay, a social network for Hindi movie buffs. Flickbay recently raised around Rs 6 crore from Paul Roy, chairman of Dubaibased Riva Digital.

'ECOSYSTEM SIMILAR TO US'

Silicon Valley-based Srini Madala who participated in the $1-million deal in driver-hiring platform DriveU along with other Valley-based investors and Unitus Seed Fund said the entrepreneurial energy and ecosystem in India are akin to that in the US.

"DriveU is one of our first investments. I am looking for opportunities that are likely to disrupt the traditional way of doing things, and those that have Potential to be replicated in other parts of the world," he said.

Startups are of the view that investors from abroad are able to provide access to whole new networks which could help raise further funding. "If you are lucky, often these guys have amazing networks and contacts and that will help raise more capital in future rounds>," said
Rishi Wahi, the cofounder of Repaireasy. Among those benefiting from such a network is shopping personalisation app Hippily. Manish Mahajan, the founder of Singapore-based boutique investment banking firm Mount Nathan Advisors, invested in Hippily last year and was keen to increase his stake in the company. So he roped in five more people, including Google's senior vice-president for ads and commerce, Sridhar Ramaswamy, to help raise $2,50,000.

"Foreign investors help get a lot more global perspectives at a strategic level since some of the foreign markets are much ahead of us," said Hippily CEO Viswanath Ramachandran.

Source: http://economictimes.indiatimes.com/small-biz/money/foreign-angel-investors-provide-wings-to-small-indian-startups/articleshow/53746766.cms