Startup India
Prime Minister, Mr. Narendra Modi quotes," I see startups, technology and innovation as exciting and effective instrument for transformation of India". This says a lot about the startups. Triumphant start-ups are generally created by those who are determined by an idea or a support to get to the bottom of a problem that…..
more –>
Our Initiative
The association of Start Up India Consultants with 'Start Up India Stand Up India Programme' makes it a one of its kind consultancy in India.We are looking forward to provide a ground level awareness and services regarding this programme to the people of India.Our collaboration with Start-Up initiative .. …
more –>

Why Choose Us
First and foremost reason to choose us: we are the only existing start-up consultancy which is looking to expand into the unexplored.This way, we guide new business ideas towards the vault of opportunities in this programme.The second reason to choose us is the way we work. We believe in innovativeness …
more –>
What Makes Us Different?
In this highly competitive market, everybody aspires to provide the best consultancy services. Every consultancy promises to provide best solution to all your problems.We take this competition as a great source of inspiration and work on three catalysts; transform, impact and inspire. We aspire to…
more –>
Government Scheme of Startup India Program
Get Inspired
entrepreneurship
Forest rangers see the forest differently. Likewise, entrepreneurs see the world differently
Richie Norton.
growth
"Conformity is the jailer of freedom and the enemy of growth."
― John F. Kennedy.
leadership
Don't tell people how to do things, tell them what to do and let them surprise you with their results.
― George S. Patton Jr.
ideation
"Business ideas are like those flying dragons in Avatar. First you have to find one, let it choose you, then be brave enough to ride it."
―Ryan Lilly
innovation
"Innovation is an evolutionary process, so it's not necessary to be radical all the time."
― Marc Jacobs.
Govt May Push Profit-Making Psus To Create Start up Funds
In a move to boost start-up ventures in the country, the Government is likely to soon push all profit-making public sector units (PSUs) for creating the start-up funds to accelerate productivity and growth, especially in manufacturing and information and technology (IT) space. The Government has directed almost all ministries to prepare a list of such PSUs for this purpose, according to a senior Government official.The move ..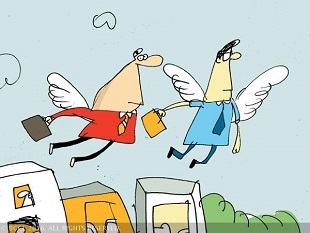 Foreign angel investors provide wings to small Indian startups
BENGALURU: Funding may be hard to come by from big-name investors for established startups looking for growth capital, but early-stage ventures are finding support from wealthy individuals based overseas — both foreigners and those of Indian origin.The view of Indian startups from abroad is rosy for these early-stage investors who see a mix of homegrown innovation that addresses local problems, and a big market to boot.
ONGC joins the brigade of 'Startup India', sets up Rs 100-cr fund for startups
State-owned Oil and Natural Gas Corp (ONGC) recently said it has set up a Rs 100-crore startup fund to nurture new ideas related to the sector in New Delhi.The initiative, christened 'ONGC Startup', is in line with the Government of India's 'Startup India' initiative, the company said in a statement.As part of this initiative, ONGC will provide the entire support chain for startups ..